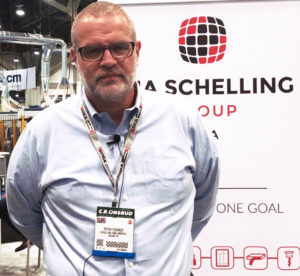 WPU: Industry 4.0 is the main focus in AWFS this year, where do you place yourself when it comes to industry 4.0?
Peter Tuenker: We are definitely on the front end of this whole movement of industry 4.0. IMA Schelling has invested for the last 15 years heavily in this field, we are the providers of large scale of solutions fully automated solution up and running installs all over the world- Western Europe, South America and also in North America, so, we can definitely say that we have been always with this development.
WPU: LIGNA was a very successful show for all of the European companies and since you are the Big Boss for the American market, how is the American market is faring so far?
PT: We are actually moving in the exact direction that the European market moved ten to fifteen years ago, we are seeing a big uptake of the batch size 1 technology, automated system, we are lucky enough to already have placed quite a few of these systems here in the US and already in Canada. So, we are watching all of these developments from Europe coming now to North America as well.
WPU: Can you name couple of few machines you are exhibiting here?
PT: Actually we have our laser technology for the first time here in Las Vegas. We have introduced the IMULUX Laser- in Atlanta last year but we are also showing this technology at Las Vegas this year. This is a technology again laser edgebanding that is becoming more important in North America and we are seeing a big spike of interest in laser edgebanding technology. We are promoting this technology for a long time, we have invented the laser edgebanding process and now we are taking it to the North American customer as well. This machine, we are showing here, will go to one of our customers in Southern California, after the trade show, who will be the first owner of laser edgebander in Southern California. He will supply the market for the first time with laser edgebanding material made in Southern California.
WPU: You are representing the North American market, does it include the Canadian market?
PT: Yes, we do have an Canadian office in Mississauga, we actually work very closely together with our Canadian counterparts with total almost 60 persons in North America working for our IMA Schelling Group again about 45 to 50 of them in the US and 10-15 little bit depending on the who works in which side of the border anytime in Canada. So, we have very good team of people in the USA and also in Canada.
WPU: Can I expect to see you at Canadian show in November?
PT: Yes, absolutely we are signed up for the show in Toronto. We have always been at the show and this year we will also be there for sure.
WPU: My last question would be what is your plan for the rest of the year and of course 2018?
PT: Business has been very good for us, we are very happy to report that we are looking at our best year so far, in this new configuration as the IMA Schelling group is one company. We are very busy and we definitely know that we will be very busy for the long time. End of this year is fully packed, specially realizing all these projects that we have on the books already and we need to make sure that we get these machines, these systems up and running for our customers.